When signing up for a Personal Box account, you may experience the following error referencing an account which already exists: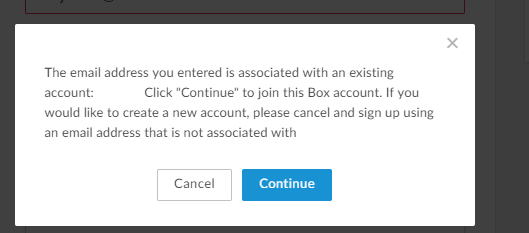 Environment
Users trying to sign up for a personal Box account using an email owned by their organization.
Resolution Steps
We recommend you either:
Reach out to the Box Administrator for your company who can assist you with provisioning an account.
Sign up for Box using another email address with a different email subdomain.
Root Cause
This behavior is in place for security purposes. Box Administrators have the ability to have their email domains associated with their Box account to help manage sharing within the organization and prevent unauthorized creation of users. Users attempting to sign up for a Box personal account with their company's domain should be managed under their Box Enterprise account.
admin_swarm_kb