In this article, you can find all your billing information pertaining to your account. This includes: payment method (how you can also update your payment method), billing cycle, monthly or annual charge and all your invoices. Note that only the administrator has access to the billing section on the account.
Administrators can now set up a folder in their account for their invoices. For accounts that pay via credit card, these invoices will display the amount that was billed to the credit card on file. For accounts that pay via check, wire or ACH, these invoices will display the amount due for the current payment period.
To enable this, please refer to the following steps:
1. Sign into your Box.com account as the administrator.
2. Visit: www.box.com/billing (you can either click this link or type it into your browser.)
**Note: This is where you can view all billing and payment information on your account**
3. Scroll down to the section titled "Billing Information" and check the box next to "Upload new invoices to your account."
4. Click "Save" to confirm this change. Once confirmed, a new folder will be added to your "All Files and Folders" view titled "Invoices from Box" (this is where your future invoices will be routed and you can even invite collaborators to it!)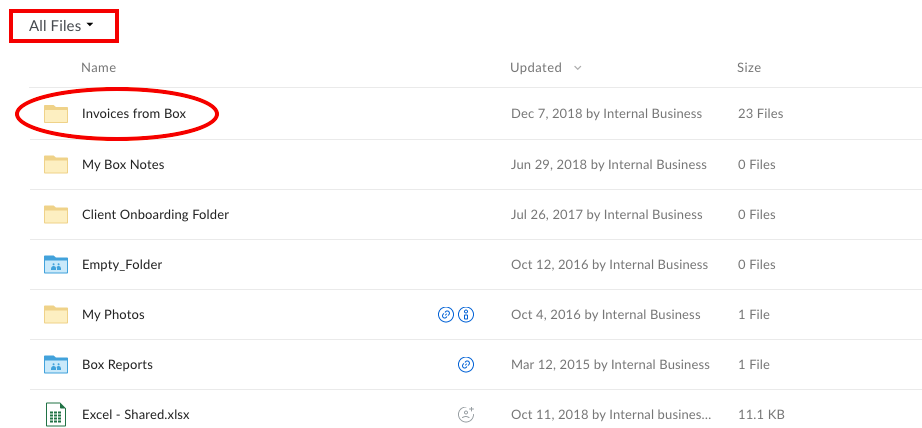 Tip: By requesting email notifications from this folder, you will be notified every time that you are invoiced. You can also invite collaborators to this folder, which is useful if others within your company need notification of invoices. Instructions on how to invite a collaborator into a folder.
Please note that there may be a short delay between when an invoice is processed and when it is posted in this folder. For any urgent questions about your invoices, please submit a Case to our Billing Team.
billing_swarm_kb